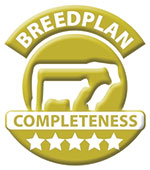 Warringa Herefords was recently awarded a Gold 5 Star rating in the "Completeness of Performance" herd rating system.
Warringa Herefords are one of only 7 herds in Australia to be awarded a Gold 5 star rating which is the highest possible rating.
The Gold 5 star rating acknowledges Warringa Herefords belief in and dedication to Breedplan performance recording and confirms they are considered to be recording 'complete' performance information with Breedplan for all animals across all traits for which EBVs are available. It is a clear indication to clients of the reliability of their animals EBVs.
While ultimate EBV accuracy values provide an indication of the reliability of an animal's EBVs, the "Completeness of Performance" star rating provides both seedstock and commercial producers alike with an assessment of how much performance has been submitted to Breedplan by a herd when looking at the EBVs for animals within their herd.
Warringa Herefords believe it is essential to record all traits for their cattle and are extremely proud that their Gold 5 star rating provides their clients and prospective purchasers with an assurance that the EBVs for Warringa Herefords have high accuracy and are therefore reliable.