Warringa Herefords is a progressive Hereford stud originally based at Yarram in Gippsland, Victoria, but since November 2018 based at Sarsfield (10 km East of Bairnsdale) in East Gippsland, Victoria. It is owned and operated by Bill and Minnie Kee.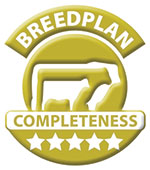 The stud comprises of approximately 80 head which includes mature females, maiden heifers and a selection of bulls suitable for stud and commercial use.
The Warringa herd calves in March and April and is managed under commercial conditions.
Cattle are selected for function and productivity with particular emphasis placed on temperament, moderate birth weight, milk, growth and carcase.
Warringa Herefords are one of only 7 Hereford herds in Australia with a Gold 5 star rating under the Completeness of Performance herd rating system.
Bulls are available annually at the Stock and Land Beef Week Field Day (held Jan/Feb annually on property) and at the Wodonga National Hereford Show and Sale in May. Bulls are also available privately out of the paddock.

History
Bill and Minnie Kee established their Warringa Hereford Stud at Yarram in 1991. Foundation females were from Widgiewa and St. Gabriel's. Initially sires and semen were from Widgiewa but subsequently from South Boorook, Racovolis, Courallie, Bowmont and Ironbark Hereford Studs. Home bred bulls are also used.
In 2010 they introduced some Poll genetics to their herd by artificially inseminating some selected heifers to Allendale National W168.
The stud is proud of it achievements and successes since its inception.