Warringa Herefords is a progressive Hereford stud based at Yarram in Gippsland Victoria. It is owned and operated by Bill and Minnie Kee.
The stud comprises of approximately 80 head which includes mature females, maiden heifers and a selection of bulls suitable for stud and commercial use. The Warringa herd calves in March and April and is managed under commercial conditions. Cattle are selected for function and productivity with particular emphasis placed on temperament, moderate birth weight, milk, growth and carcase.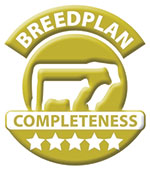 Warringa Herefords are one of only 7 Hereford herds in Australia with a Gold 5 star rating under the Completeness of Performance herd rating system.
Bulls are available annually at the Stock and Land Beef Week Field Day (held Jan/Feb annually on property) and at the Wodonga National Hereford Show and Sale in May.
Bulls are also available privately out of the paddock.

History
Bill and Minnie Kee established their Warringa Hereford Stud at Yarram in 1991. Foundation females were from Widgiewa and St. Gabriel's. Initially sires and semen were from Widgiewa but subsequently from South Boorook, Racovolis, Courallie, Bowmont and Ironbark Hereford Studs. Home bred bulls are also used.
In 2010 they introduced some Poll genetics to their herd by artificially inseminating some selected heifers to Allendale National W168.
The stud is proud of it achievements and successes since its inception. These include:
Wodonga Hereford National Show and Sale Highlights.
1996 – Warringa Grandslam N17 – sold for $21,000 at Wodonga to Weblyn Herefords, McLaren Vale S.A.
2000 – Warringa Tomba T14 – Sold for $5,500 to WD Paton and Co. Tooma NSW
2000 – Warringa Tornado T3 – Sold for $5,000 to J.V Walsh at Mitta Mitta Vic
2008 – Warringa Bonanza B17 – Sold for $7,000 to Yavenvale Herefords Adelong NSW
2009 – Warringa Caesar C34 – Sold for $6,000 to David Phelan Yarram Vic
2010 – Warringa Dominator D3 – Sold for $6,000 to Rowan Partners Carapook Vic
2011 – Warringa Emperor E11 – Sold for $9, 000 to A & E Vivers Jindalee Herefords Inverell NSW.
2014 – Warringa Harrier H25 – Sold for $5000 to B & J Elliot, Talargno Victoria.
Private Sales
2009 – Warringa Cannibal C14 – Sold for $6,000 to Mundook Herefords Bairnsdale Vic.
2011 – Warringa Ferdinand F18 – Sold for $5,000 to S. & H. Mattern, Yarram Vic.
2012 – Warringa Flyboy F1- Sold for $4,500 to D. James Alberton Vic.
2012 – Warringa Ferrari F11- Sold for $8,000 to R. & A. Faithfull Benambra Vic.
2012 – Warringa Flanders F13 – Sold for $10,000 to P. Commins Nunniong Hereford Stud Ensay Vic.
2013 – Warringa Google G23 – Sold for $10,000 to Glendan Park Hereford Stud, Kyneton, Vic.
2014 – Warringa Hawk H19 – Sold for $8000 to T & B Holliss, Lotus Herefords, Pinkett. NSW.
2014 – Warringa Halifax H21 – Sold for $7000 to D McAinch, Sanbah Herefords, Yanakie. Vic. and Mundook Herefords, Bairnsdale.Vic.
Local Competitions
2003 – Winner of the Gippsland Hereford Group Female Challenge (Group B).
2010 – Winner of the Gippsland Hereford Group Female Challenge (Group B).
2010 – Runners up overall (Group A & B) Gippsland Hereford Group Female Challenge